21th June 2019
Why have HyperLaw and LEX integrated their products?
The answer is simple…
HyperLaw provides barristers with intelligent case review and presentation software while LEX provide market leading chambers management software. Two entirely different solutions working together to deliver a seamlessly efficient, paperless solution for clerks and barristers.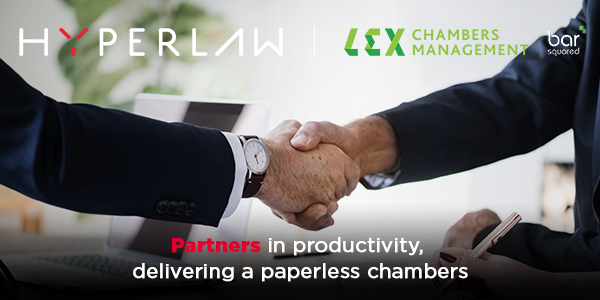 Beyond chambers management software we recognise that there is a requirement to provide barristers with access to class-leading case review and presentation software that is beyond the standard PDF editor and that effortlessly integrates with your existing chambers management software. With this integration, you get exactly that. Together, we help chambers to unlock end-to-end clerk to barrister workflow so you can eliminate the need to print, load and distribute case documents for review – something that was not possible, until now.
We save chambers time, drive technology based case review and presentation for barristers, significantly reduce costs and fundamentally lower risk as everything is stored in Microsoft Azure's trusted cloud.
---
How do we complement each other?

HyperLaw helps barristers take care of case review and presentation with cutting-edge technology, while LEX chambers management focuses on ensuring smooth and efficient operation of chambers with features for effective diary management, automated billing, marketing and document storage.
Both are different software solutions that naturally go hand in hand, but what makes it even better is that both companies are passionate about delivering innovative working practices and improvements to their customers.
---
How does the HyperLaw and LEX integration work?


We have built integration to enhance connected workflow between clerks and barristers to deliver an efficient paperless chambers.
You continue to use LEX and ShareFile in exactly the same way, nothing changes there. The only change is when it comes to handing over a case to a barrister for review and presentation, this is where the integration drives efficiency gains.
The integration includes:
Access to case details and documents in HyperLaw for barristers to review the case anywhere, anytime.
Quickly on board cases in LEX and assign a barrister to instantly review it in HyperLaw.
Automatic population of case details in HyperLaw from data already captured in LEX.
Seamlessly upload documents stored in LEX with ShareFile to HyperLaw – removing duplication of data and ensuring barristers can jump straight to reviewing the case.
Utilise easy-to-use tools to review the case – tag, annotate, highlight, redact, scribble, search and note capture.
Rapidly build case chronologies, summaries and identify key trends, documents, people, names and dates that occur without having to read the whole case.
Build court bundles and documents in HyperLaw and send them back to LEX to ensure full document retention monitoring.
Share and present your case from a laptop or tablet.
Secure cloud-based storage.
---
How do I find out more?
You can contact us via one of the following options to discuss how the integration can help transform your chambers.
Sign up to a free demo to see how your chambers can take case review and presentation beyond PDF editing
Request a free copy of the HyperLaw with LEX integration product brochure by emailing sales@axiomtdm.com
Call us to speak to a friendly member of the HyperLaw team on

01785 241 492